Orpaz Defense Classic OWB Holster, Level I and II Retention If you're looking for either a Level I or Level II retention OWB holster, possibly the best on the market right now are from Orpaz Defense, an Israeli company new to the tactical gear game. They offer many different configurations such as paddle holster, belt, drop leg, or Molle attachments. Each of the holsters is compatible with all of the attachments, for the ultimate in modularity. They are designed and made by a veteran of the Israeli police SWAT team, so you know they are made with quality.
Orpaz Defense Classic OWB Holster Features
The Classic OWB Level I and Level II Retention Holster from Orpaz Defense are available for many of the most popular handguns, including Glock, SIG Sauer, Smith & Wesson, H&K, and CZ. They're made from a durable hard polymer construction that is molded to the gun model for a tight fit. Retention is adjustable with an M5 Allen key that is included. The body of the holster is sleek and smooth to prevent snags. Its ergonomic design allows for fast draws for quicker time to target. The smooth design enables smooth, fast draws of just 0.4 seconds from the ready position to on-target with the first shot. One of the best features of the Classic Series OWB holster is that it swivels 360 degrees to accommodate any carry position. Another amazing feature is that the holster is compatible with all other Orpaz Defense products such as paddle, belt, drop-leg, and Molle attachments. In addition to the features listed above, the Level II Retention Holster also features a Thumb Lock & Release Mechanism to ensure additional safety. The Level II retention meets the standards of many military and law enforcement units around the world.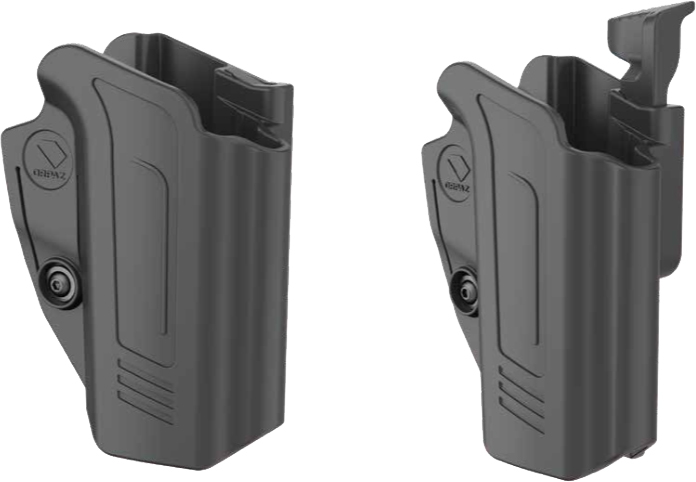 Versatility
With the multitude of possible combinations, you are able to build the Orpaz Defense holster that fits your needs. Maybe you need a drop-leg holster for your Glock 17 and a Level II retention OWB belt holster for your SIG P320. With Opaz Defense, you can mix and match attachments to find just the right fit.
Why You Should Choose This Holster
Orpaz Defense not only offers the versatility to choose exactly which holster fits your needs, but it is made of high-quality hard polymer that keeps its shape and won't snag. It's available for many of the most common handguns used by military and police units throughout the world. And it's made in Israel by a veteran of the Israeli police SWAT team.
Modular Attachments
The great thing about Orpaz Defense holsters is that they are compatible with all Orpaz attachments. This includes:

The MOLLE attachment is compatible with all MOLLE compatible gear that is issued by many militaries around the world. Low Ride attachment is compatible with holsters or combat vests, and two adjustable height levels. The Drop Leg attachment is popular with SWAT and elite police and military units for its convenient location on the upper thigh. The belt attachment is compatible with all holster and magazine holders. It's made of lightweight, high-quality polymer construction. It fits all belts up to 2" wide.
Conclusion
For quality and value, it's hard to find a better holster on the market today. The Orpaz Defense Classic OWB Level I and II Retention holsters provide unmatched versatility and compatibility, making the transition between weapons simple. With holsters for many of today's most popular guns, it's impossible to go wrong with Orpaz Defense